Sawtooth Michael Angelo Batio Series Guitars
Designed with Legendary Guitarist Michael Angelo Batio, Sawtooth's new ST-M24 series offers the best value 24 fret guitars on the market today. Receive upgraded appointments without the cost with these one of a kind guitars. If you've been thinking about adding a 24 fret guitar to collection, the ST-M24 series is the right choice. Available in both left and right hand configurations.
Sawtooth Americana Heritage HM724 7 String Electric Guitar with Fluence Pickups & Floyd Rose Original, Satin Red
The guitar is outfitted with two Fishman Humbucker Pickups.

Bridge Position Pickup is a ceramic magnet.

The neck position pickup is an Alnico coupled with the Fluence control kit consisting of one volume potentiometer one tone potentiometer that is a high quality push pull potentiometer and a standard three way toggle pickup selector switch.

All three components are high quality import parts.

The output jack is a switchcraft.

The Push-pull pot controls the tone and also switches the pickups from a modern high output to a modern passive attack on the bridge pickup.

The modern active alnico sound or crisp clean fluid neck tone on the neck pickup.

The Fishman delivers a modern sound with flexibility between hot and not with all the tone you want without the usual plinky sound you don't.
Part Number: ST-HM-724-SR
Guitars will Ship 1/15/2021
Sawtooth Americana Heritage HM724 7 String Electric Guitar w/ Fluence Pickups & Floyd Rose Original
7StringRed2
7StringRed3
7StringRed4
7StringRed5
7StringLeftyRed1
7StringLeftyRed2
7StringLeftyRed3
7StringLeftyRed4_1024x1024
Satin White Americana 24 Series ST-M24 with Floyd Rose Original & Seymour Duncan
Basswood Body

Bolt-on Canadian Maple C Shaped Neck

Sandalwood Fretboard

Pearloid Block Inlays

42mm Nut Width

24 Frets

15" Radius

Medium Jumbo Frets

Slanted Headstock with "S" Truss Rod Cover

25.5" Scale Length

Wilkinson Tuners

Switch Craft Output Jack

Floyd Rose Original (FRT100)Chrome Tremolo System

Seymour Duncan JB in Bridge Position & Jazz in Neck Position

CTS 500K Potentiometers

White Black Knobs

Includes ChromaCast Pro Series Hard Case
Part Number: ST-M24AC-SWH
Satin White Americana 24 Series ST-M24 with Floyd Rose Original & Seymour Duncans
Americana Classic M24, Satin White - Right Handed
Americana Classic M24, Satin White - Right Handedana Classic M24, Satin White Right Handed
Americana Classic M24, Satin White - Right Handedana Classic M24, Satin White Right Handed
Americana Classic M24, Satin White - Right Handedana Classic M24, Satin White Right Handed
ChromaCast Pro Series Hard Case
Americana Classic M24, Satin White - Left Handed
Americana Classic M24, Satin White - Left Handed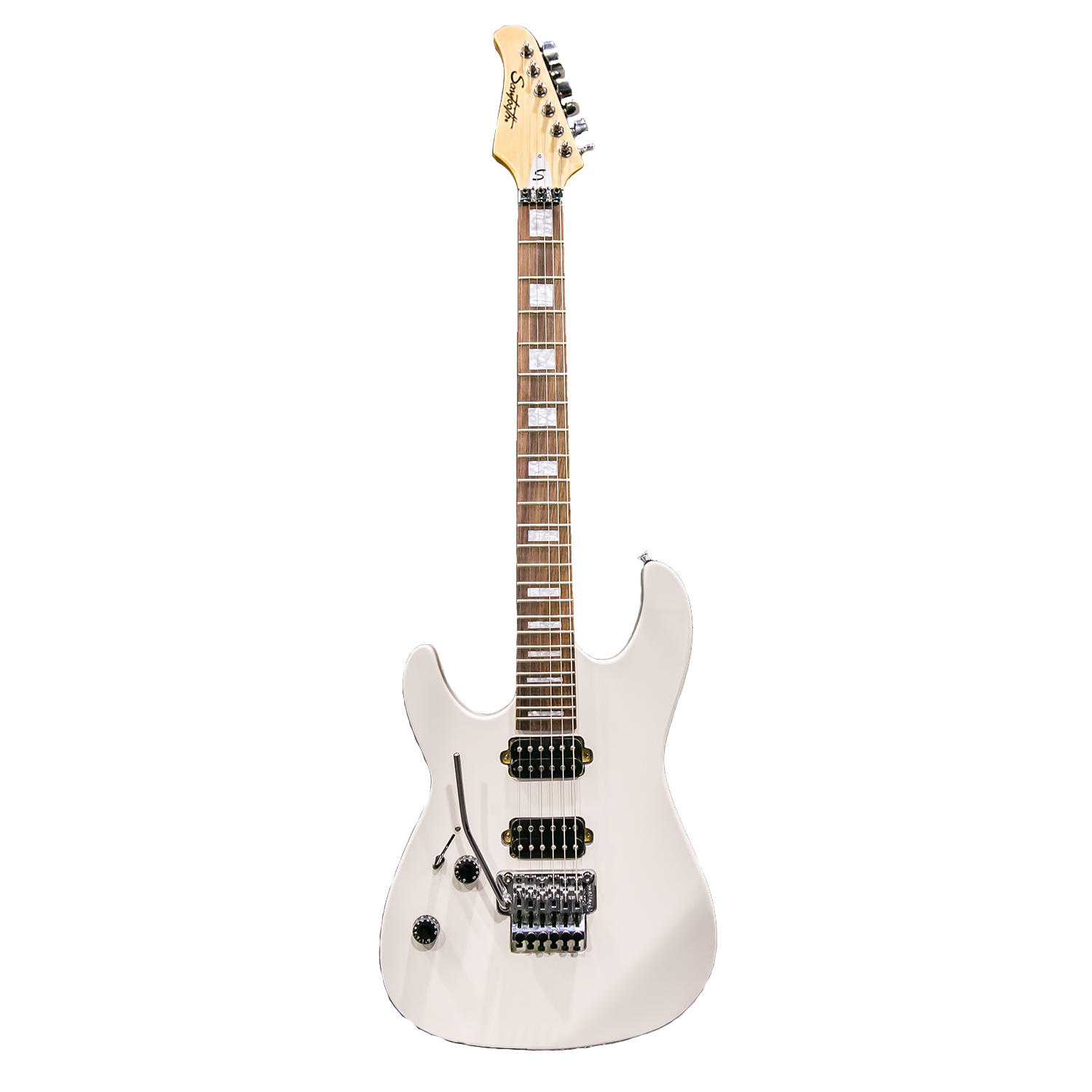 Americana Classic M24, Satin White - Left Handed
Americana Classic M24, Satin White - Left Handed
Americana Classic M24, Satin White - Left Handed
ChromaCast Pro Series Hard CaseS-STEHC
Satin Black Americana 24 Series ST-M24 with Seymour Duncans
Basswood Body

Bolt-on Canadian Maple C Shaped Neck

Maple Fretboard

Black Block Inlays

42mm Nut Width

24 Frets

15" Radius

Medium Jumbo Frets

Slanted Headstock with "S" Truss Rod Cover

25.5" Scale Length

Wilkinson Tuners

Switch Craft Output Jack

Wilkinson Hard Tail Bridge

Seymour Duncan JB in Bridge Position & Jazz in Neck Position

CTS 500K Potentiometers

White Speed Knobs

Includes ChromaCast Pro Series Hard Case
Part Number: ST-M24AC-SBK
Satin Black Americana 24 Series ST-M24 with Seymour Duncans
Americana Modern M24, Satin Black - Right Handed
Americana Modern M24, Satin Black - Right Handed
Americana Modern M24, Satin Black - Right Handed
Americana Modern M24, Satin Black - Right Handed
CC-PS-STEHC
Americana Modern M24, Satin Black - Left Handed
Americana Modern M24, Satin Black - Left Handed
Americana Modern M24, Satin Black - Left Handed
Americana Modern M24, Satin Black - Left Handed
Americana Modern M24, Satin Black - Left Handed
CC-PS-STEHC
Satin White ST-M24 with Floyd Rose Original
Basswood Body

Bolt-on Canadian Maple C-shape Neck

Sandalwood Fretboard

Pearloid Block Inlays

42mm Nut Width

24 Frets

15" Radius

Medium Jumbo Frets

Slanted Headstock with "S" Truss Rod Cover

25.5" Scale Length

Wilkinson Tuners

3-Way Selector Switch

Floyd Rose Original (FRT100) Chrome Tremolo System

Sawtooth Neck & Bridge position Humbuckers

Black Speed Knobs
Part Number: ST-M24-SWH
Satin White ST-M24 with Floyd Rose Original
Satin White M24 - Right Handed
Satin White M24 - Right Handed
Satin White M24 - Right Handed
Satin White M24 - Left Handed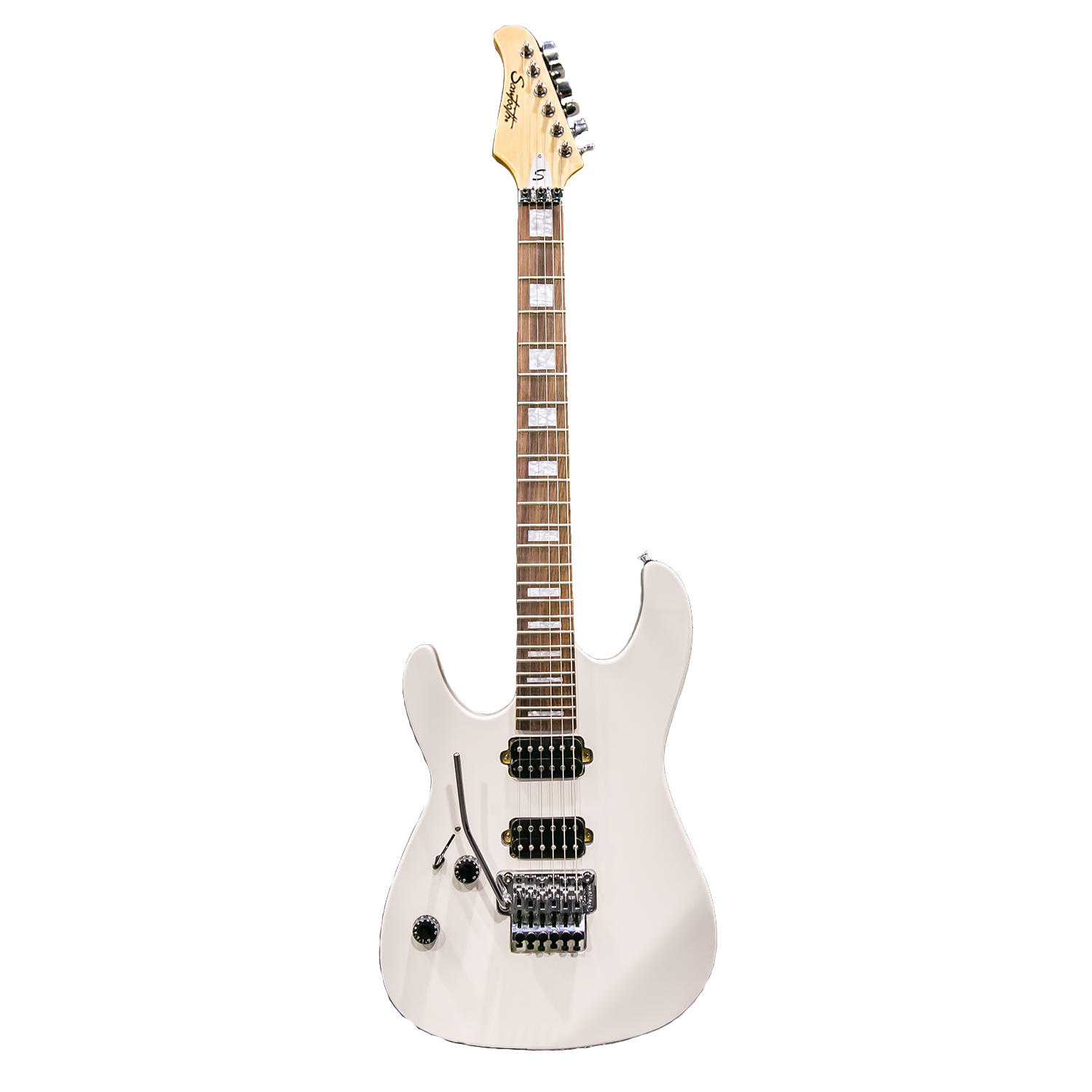 Satin White M24 - Left Handed
Satin White M24 - Left Handed
Satin White M24 - Left Handed
Satin Black ST-M24
Sycamore Body

Bolt-on Canadian Maple C shape Neck

Maple Fretboard

Black Block Inlays

42mm Nut Width

24 Frets

15" Radius

Medium Jumbo Frets

Slanted Headstock with "S" Truss Rod Cover

25.5" Scale Length

Wilkinson Hard Tail Bridge

Wilkinson Tuners

3-Way Selector Switch

Sawtooth Neck & Bridge Position Humbuckers

White Speed Knobs
Part Number: ST-M24-SBK
Satin Black ST-M24 - Right Handed
Satin Black M24 - Right Handed
Satin Black M24 - Right Handed
Satin Black M24 - Right Handed
Satin Black M24 - Left Handed
Satin Black M24 - Left Handed
Satin Black M24 - Left Handed
Satin Black M24 - Left Handed
Sawtooth ST-M24 Satin Black, MAB Signature 24 Fret Electric Guitar Pack
​​
Sycamore Body

Bolt-on Canadian Maple C shape Neck

Maple Fretboard

Black Block Inlays

42mm Nut Width

24 Frets

15" Radius

Medium Jumbo Frets

Slanted Headstock with "S" Truss Rod Cover

25.5" Scale Length

Wilkinson Hard Tail Bridge

Wilkinson Tuners

3-Way Selector Switch

Sawtooth Neck & Bridge Position Humbuckers

White Speed Knobs

Players Pack Includes: Pro Series Gig Bag, Strap, Clip-On Tuner, Stand, Picks, 15' Cable, String Dampener, Signed MAB Photo & 25-Watt Amp
Part Number: ST-M24-SBK-MAB
Sawtooth ST-M24 Satin Black, MAB Signature 24 Fret Electric Guitar Pack
Satin Black ST-M24 - Right Handed
Satin Black M24 - Right Handed
Satin Black M24 - Right Handed
Satin Black M24 - Right Handed
Basswood Body

Bolt-on Canadian Maple C-shape Neck

Sandalwood Fretboard

Pearloid Block Inlays

42mm Nut Width

24 Frets

15" Radius

Medium Jumbo Frets

Slanted Headstock with "S" Truss Rod Cover

25.5" Scale Length

Wilkinson Tuners

3-Way Selector Switch

Floyd Rose Original (FRT100) Chrome Tremolo System

Sawtooth Neck & Bridge position Humbuckers

Black Speed Knobs

Players Pack Includes: Pro Series Gig Bag, Strap, Clip-On Tuner, Stand, Picks, 15' Cable, String Dampener, Signed MAB Photo & 25-Watt Amp
Part Number: ST-M24-SWH-MAB
Sawtooth ST-M24 Satin White Floyd Rose, MAB Signature 24 Fret Electric Guitar Pack
Sawtooth ST-M24 Satin White Floyd Rose, MAB Signature 24 Fret Electric Guitar Pack
Satin White M24 - Right Handed
Satin White M24 - Right Handed
Satin White M24 - Right Handed
Sycamore Body

Bolt-on Canadian Maple C-shape Neck

Maple Fretboard

Black Block Inlays

42mm Nut Width

24 Frets

15" Radius

Medium Jumbo Frets

Slanted Headstock with "S" Truss Rod Cover

25.5" Scale Length

Wilkinson Gold Tuners

3-Way Selector Switch

Wilkinson Gold Hard Tail Bridge

Sawtooth Neck & Bridge position Humbuckers

Black Speed Knobs
Part Number: ST-M24-SBK-GOLD
Sawtooth ST-M24 Satin Black with Gold Hardware
Black-STm24-Gold-2
Black-STm24-Gold-4
Black-STm24-Gold-3
Black-STm24-Gold-5
Black-STm24-Gold-6
Black-STm24-Gold-7